What is A BBL (Brazilian Butt Lift)
The number of requests we get for our Houston Brazilian butt lift (BBL) procedure has skyrocketed here at Premiere Surgical Arts. Of course, breast augmentation and liposculpture will always be popular. However, between Instagram stars and celebrities with enviable backsides, butts have really taken the spotlight. The procedure is an amazing way to get a curvy, more sensual body profile and a youthful, lifted look. Whether you lost a lot of weight and you feel as if it left your butt looking shapeless and deflated or you were always unhappy with the appearance of your derriere, a BBL could be the answer for you. As a leading Brazilian butt lift surgeon, I've performed thousands of procedures, giving patients the bodies they've always dreamed of. I know the idea of cosmetic surgery and the associated recovery period can be intimidating for some people, so I'm sharing exactly what to expect after BBL surgery.
1. Your Butt Might Look Shockingly Big Right After Brazilian Butt Lift Surgery
There will be post-procedure swelling, so don't be alarmed if your backside looks significantly bigger at first or slightly asymmetrical. I promise, you're not going to be a cartoon version of you! I'll give you plenty of Brazilian butt lift recovery tips to help reduce this swelling and make sure you're comfortable. For most patients, a brazilian ass augmentation involves taking fat from other parts of your body and transferring it to your butt. Any time someone has fat grafting to any area, about 30 to 40 percent of the fat will resorb into the bloodstream. That's why if you're aiming for a certain size, we have to go a little bigger because not all of the fat will stay. At about six weeks post-op, you'll know how much fat will be retained. At that point, if all things stay consistent, especially your weight, there shouldn't be any more fat loss and the transferred fat will act like your own tissue.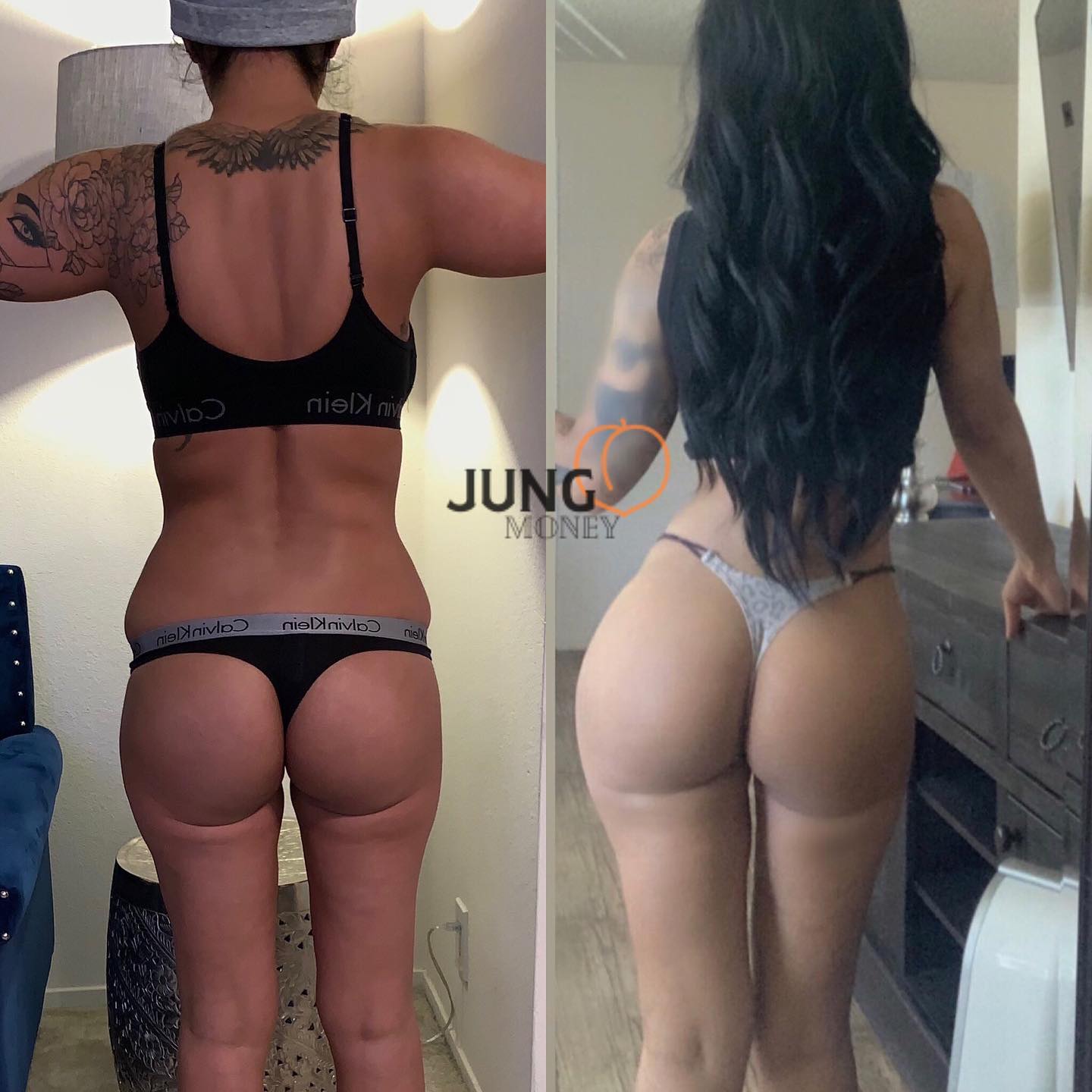 2. The Brazilian Butt Lift Recovery Process is Different for Everyone
Everyone responds differently to procedures, so there's no set BBL recovery timeline. I customize your BBL post-op care and recommendations, such as how long you'll wear your compression garment, based on a variety of factors but mainly on how well your skin is contracting at the one-week post-op visit. To get the results, follow all of the Brazilian butt lift recovery tips and instructions we give you, including sleeping on your stomach for six weeks and using your BBL pillow when sitting. Depending on the complexity of your surgery and what you do for a living, you could return to work in as little as a few days or it might take up to two weeks. However, in general, most patients feel back to normal and can resume many of their regular activities four to six weeks after the procedure.
3. Your BBL Post-Op Care Will Involve Some Sweet New Gear
To help contour the body and control swelling, rocking a compression garment will be a big part of your Brazilian butt lift surgery post-op care. If we perform liposuction to get donor fat for your butt augmentation, you'll wear the compression garment for six to 12 weeks (again, everyone is different). You can put your clothes on over top, so you won't have to strut around looking like you're ready to step into the wrestling ring. You'll also have to use a Brazilian butt lift pillow for six weeks during the BBL recovery process, which brings us to our next point.
4. Figuring out How to Sit After BBL Surgery Takes Creativity
Patients don't realize how much they sit until they can't sit. When it comes to what to expect after BBL surgery (Brazilian Butt Lift Surgery), the no sitting thing might come as a surprise. However, pressure on your buttocks can interfere with the fat transfer process and cause less fat to survive. It's super important to avoid sitting until I give you the go-ahead (usually a few days to a week post-op) and then, afterwards, you'll have to sit on your BBL pillow for six weeks. If you feel weird about using your new BFF (your butt pillow) in public or having to come up with some entertaining strategies for how to sit after BBL surgery, just remember, it will totally be worth this small sacrifice. Focus on your new booty and forget the rest!
5. Bruising and Minor Discomfort is Par for the Course
Your butt and the areas we took fat from will probably be bruised after your procedure. This will fade within a week or two and it's completely normal. You might also be a little sore (don't worry, the pain is fairly minimal). One of the BBL recovery tips is to stay on top of any discomfort. It's easily controlled with oral medication but don't wait until you're feeling sore to take your meds. Stick to the schedule I give you in those first few days and use your medications as directed. The discomfort subsides quickly.
6. You'll Have to Temporarily Give Your Weight Loss Efforts a Rest
Many women spend a lot of time focused on losing weight and going on and off diets. Well, you get to let it go while you heal, which can be freeing in a sense. In fact, you don't want to lose weight during your BBL recovery since the donor fat cells need to establish themselves. This is especially important in the early stages when they're most fragile. You shouldn't gain a significant amount of weight either. It's all about balance and choosing healthy foods to eat after BBL surgery. Maintaining your weight will bring about the results. Aim for a well-rounded mix of good fats, fresh fruits and vegetables, lean protein, low-fat dairy and complex carbohydrates. By getting all of your necessary vitamins and minerals, your body will have the fuel it needs to recover. If you have concerns about your weight, ask me (or your plastic surgeon if you're not a patient at Premiere Surgical Arts) about what the ideal timing is for weight loss or gain.
7. Your Butt Won't be the Only Thing That Looks Amazing
I approach all of my procedures with a mix of precision and artistry. Performing surgery like a Brazilian butt lift or liposuction is a lot like sculpting clay. I make sure your body looks proportionate, symmetrical and perfectly contoured. With a Brazilian butt lift, I typically do what I call 360 liposuction (removing fat from the upper and lower abdomen, flanks (love handles) and tailbone to transfer to the buttocks). I also do the upper back at no charge so that I can have total control of the silhouette from the backside. Additional liposuction can be performed in the butt region as well to further lift and contour. Since the procedure removes excess fat from the usual trouble spots while simultaneously giving your butt a boost, we improve your overall body profile and you'll look great from all angles.
8. You May Turn to Some New Sources for Wardrobe Ideas
When you suddenly have curves and a full butt, you probably won't be a natural at knowing what to wear to flatter your figure. It takes practice, experience and a wardrobe update. So, don't be shocked when scrolling through Nicki Minaj or Jen Selter's Instagram accounts for outfit inspiration becomes a hobby or your DVR fills up with episodes of Keeping Up With the Kardashians.
9. You'll Feel More Motivated to Live a Healthy Lifestyle
To keep your butt looking perky, firm and at its , a healthy lifestyle is key. Once you heal and the fat cells are established, the shape of your butt is pretty much permanent and your fat cells will work like any other fat cells in your body. If you lose weight, they'll shrink proportionately and if you put on weight, the opposite will happen. As for the areas that were liposuctioned for your fat transfer, if you gain weight, they'll be the last places fat accumulates. With that said, once the parts of your body that weren't treated are maximized, the treated areas will then start to gain fat. The way to maintain the results from your BBL surgery and liposculpture are to stay at a healthy weight. You don't need to go crazy with working out or dieting and your butt isn't just going to revert back to how it was but regular exercise will augment your new shape and keep you healthy.
I've found that patients love how they look after their procedure and this confidence motivates them to want to live a healthy lifestyle. Exercise and eating right don't seem like a huge chore anymore. Now that you have the curvy butt you wanted, going for a run willingly or deciding to stay away from fast food might become the norm. Getting the recommended amount of aerobic exercise in and combining that with moves, such as squats, with or without weights, and other strength-training exercises for all of your muscle groups will help you continue to look and feel your.
10. You Could Get a Little Butt Obsessed
A newfound butt obsession isn't on most lists of what to expect after BBL surgery but it will probably happen. It's no wonder. Your life will revolve around your butt throughout the process and then once you heal, you'll have a fabulous new figure. Don't feel bad about checking yourself out in the mirror constantly in the first few months, taking belfies, signing up for twerk class or stocking up on more bathing suits than you can possibly wear. If you rediscover your love for the classics like "Bootylicious," "Shake Watcha Mama Gave Ya" (hey, no one needs to know your mama didn't give you those curves) or "Baby Got Back," so be it. Embrace the new you!
Now that you have a good idea of what to expect after Brazilian butt lift surgery, if you're ready for your own transformation, it starts with a consultation. Book your appointment at Premiere Surgical Arts today to discuss your options for our Houston, TX Brazilian butt lift procedure. Schedule online or by calling us at (832) 626-4735.